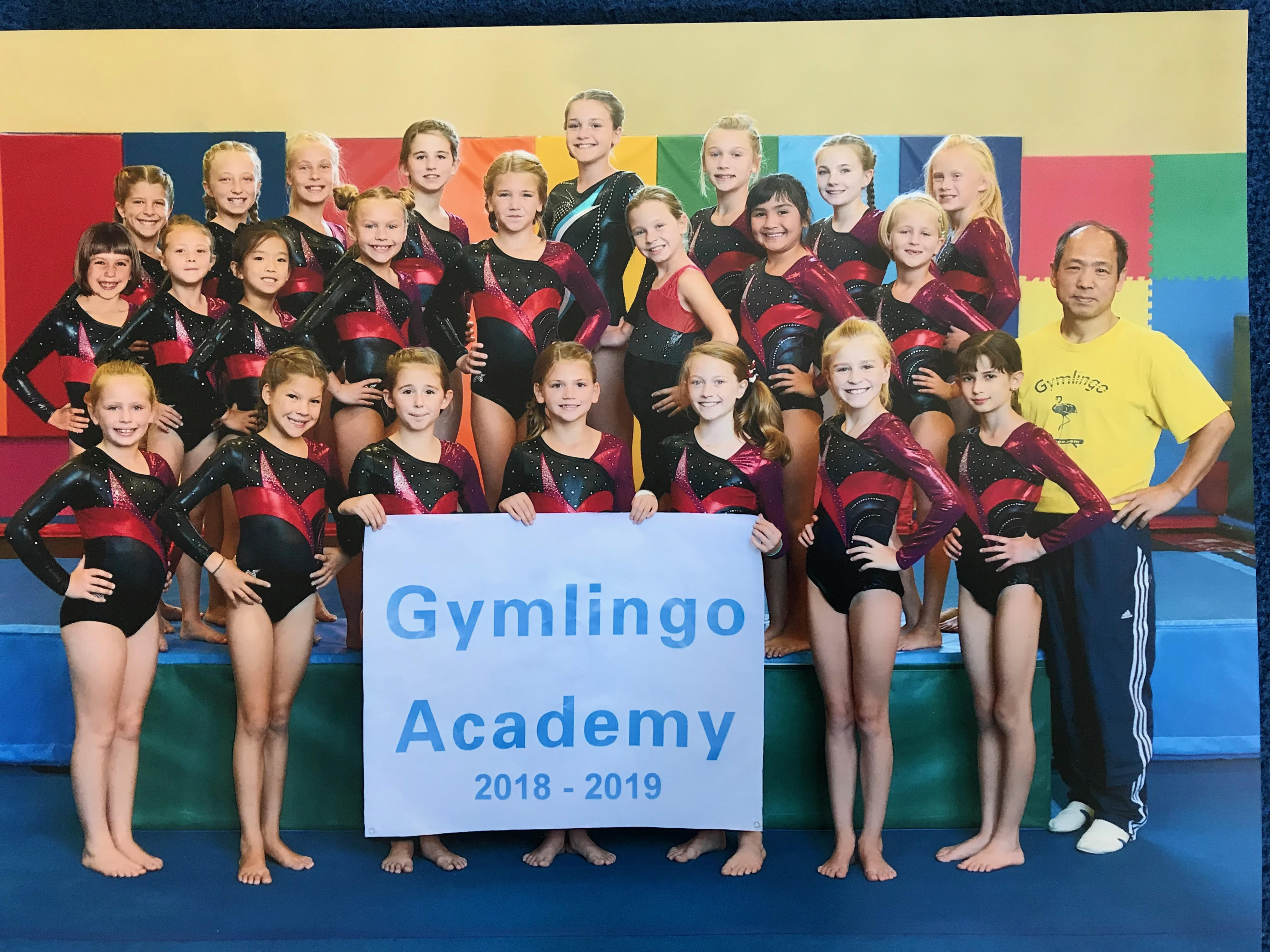 Mission Statement
To further the happiness, education, and fitness of the participating gymnasts.
Philosophy
To develop each individual's confidence, self esteem, self discipline, and hard work ethic; to further develop each gymnast's physical, mental, social, and emotional health and fitness, through a safe, fun, challenging, and positive training environment and competitive experiences.
Focus on Quality training: learning the most in the least amount of time
Additional Class schedule Jan. - May 2019
Date
Time
Date
Time
Date
Time
Date
Time
Date
Time
1/5
10:00-noon
1/12
10:00-noon
2/2
10:00-noon
2/9
10:00-noon
3/2
10:00-noon
Wednesday
3/27/19
6:00-8:30 pm
3/30
10:00-noon
4/6
10:00-noon
2019 Spring Team Class Fee Schedule
6.5 weeks
5 weeks+4 weeks+4 weeks
2nd payment due 4/15
2nd payment due 4/8
3rd payment due 4/29
2018-2019 AAU meet results
2019 AAU State Meet Results 4/13-14/2019 Onalaska, WI
Team Level 1 1st place with total 111.35; Level 2 2nd place with total 106.925:
Level 3 7th place with total 105.575, Level 4 8th place with total 87.
| | | | | | | | |
| --- | --- | --- | --- | --- | --- | --- | --- |
| Name | Level | Division | Vault | Bars | Beam | Floor | AA/Rank |
| Kelly X. | Level 1 | 7 years old | 9.300(2) | 9.625(1) | 9.125(1) | 9.175(1) | 37.225/1 |
| Evelyn F. | Level 1 | 7 years old | 9.35(1) | 8.85(3) | 8.65(2) | 8.85(3) | 35.70/2 |
| Hailey P. | Level 1 | 8 years old | 9.500(1) | 9.200(3) | 8.85(3) | 9.550(1) | 37.100/1 |
| Briar W. | Level 1 | 9 years old | 9.300(1) | 9.200(2) | 9.050(2) | 9.350(1) | 36.900/1 |
| Izabella B. | Level 1 | 9 years old | 9.000(2) | 9.275(1) | 8.575(3) | 9.150(2) | 36.000/2 |
| Delaney K. | Level 1 | 9 years old | 8.650(3) | 9.050(4) | 8.125(4) | 8.500(5) | 34.325/4 |
| Kailli Z. | Level 2 | 8 years old | 8.650(2) | 8.450(4) | 8.150(6) | 9.125(1) | 34.375/2 |
| Autumn S. | Level 2 | 8 years old | 8.500(3) | 8.200(5) | 8.550(3) | 8.750(4) | 34.000/3 |
| Wendy F. | Level 2 | 11 years old. | 9.200(1) | 9.400(1) | 9.025(1) | 9.100(1) | 36.725/1 |
| Ana S. | Level 2 | 11 years old. | 8.650(3) | 9.150(3) | 8.625(5) | 9.000(2) | 35.425/3 |
| Natalie T. | Level 3 | 8 years old | 9.450(1) | 9.075(2) | 8.925(2) | 8.500(4) | 35.950/2 |
| Tegan K. | Level 3 | 9 years old A | 9.100(3) | 8.450 (7) | 8.350(5) | 8.600(6) | 34.500/5 |
| Sophia P. | Level 3 | 9 years old A | 9.050(4) | 8.350(8) | 7.400(9) | 7.875(11) | 32.675/9 |
| Addisen H. | Level 3 | 9 years old B | 8.950(3) | 9.050(2) | 7.850(3) | 8.650(2) | 34.500/2 |
| Esther F. | Level 3 | 9 years old B | 8.650(6) | 8.050(8) | 7.700(4) | 8.600(3) | 33.000/5 |
| Alanna w. | Level 3 | 10 years old B | 9.050(1) | 8.850(5) | 7.175(8) | 7.750(9) | 32.825/7 |
| Emily T. | Level 3 | 10 years old B | 8.500(6) | 8.325(8) | 7.875(5) | 7.925(8) | 32.625/8 |
| Paige E. | Level 4 | 10B | 8.40(2) | 7.40(7) | 6.50(7) | 7.750(7) | 30.05/7 |
| Brianna B. | Level 4 | 11B | 7.300(8) | 6.70(8) | 6.80(8) | 7.30(9) | 28.10/9 |
| Laurel F. | Level 4 | 12 years old | 8.450 (1) | 6.250(11) | 6.05(10) | 8.10(3) | 28.85/10 |
| Addison H. | Xcel Gold | 11B | 7.950 (8) | 7.250(8) | 5.95(10) | 7.30(8) | 28.45/10 |
| Kaitlyn N. | Xcel Gold | 12C | 9.225(1) | 8.675 (3) | 6.700( 8) | 8.575(3) | 33.175/5 |
| Katlyn T. | Level 5 | 12 years old | 9.250(1) | 5.650(5) | 7.900(2) | 8.200(3) | 31.000/4 |
| Isabella P. | Xcel Platinum | 12 years old | 8.35(3) | 6.75(6) | 6.60(6) | 8.50(2) | 30.200/5 |
Blizzard Bash Meet Results 3/9-10/2019 Waupaca, WI
Team Level 2: 3rd place of total scores 108
| | | | | | | | |
| --- | --- | --- | --- | --- | --- | --- | --- |
| Name | Level | Division | Vault | Bars | Beam | Floor | AA/Rank |
| Hailey P. | 1 | All ages | 9.50(1) | 9.00(4) | 9.45(1) | 9.00(3) | 36.95(1) |
| Kelly X. | 1 | All ages | 9.20(2T) | 9.05(3) | 9.10(2) | 8.90(4) | 36.25(2) |
| Briar W. | 1 | All ages | 9.20(2T) | 9.10(2) | 8.60(5) | 9.20(2) | 36.10(3) |
| Izabella B. | 1 | All ages | 8.90(6) | 8.80(5T) | 8.90(4) | 9.25(1) | 35.85(4) |
| Evelyn F. | 1 | All ages | 9.15(5) | 8.80(5T) | 8.95(3) | 8.70(5) | 35.60(5) |
| Delaney K, | 1 | All ages | 9.20(2T) | 9.20(1) | 8.45(6) | 8.00(6) | 34.85(6) |
| Kaili Z. | 2 | 8 years old | 9.15(2T) | 8.05(12) | 9.15(5) | 9>00(4) | 35.35(5) |
| Autumn S. | 2 | 8 years old | 8.80(11) | 7.20(16) | 9.2(2T) | 8.55(9) | 33.75(13) |
| Wendy F. | 2 | 11 up | 9.05(3T) | 9.25(2) | 9.40(1) | 8.70(5) | 36.40(1) |
| Ana S. | 2 | 11 up | 9.00(6T) | 9.30(1) | 8.95(5) | 8.75(3T) | 36.00(2) |
| Natalie T. | 3 | 8 years old | 9.25(3T) | 8.35(3T) | 8.40(2) | 8.50(3T) | 34.50(2T) |
| Esther F. | 3 | 9 B | 9.20(2T) | 7.75(3) | 8.25(2) | 7.90(4) | 33.10(3) |
| Emily T. | 3 | 10 B | 8.80(8T) | 7.45(5) | 7.70(5) | 7.80(5) | 31.75(5) |
| Paige E. | 4 | 10 years old | 8.15(2) | 7.60(2T) | 8.20(9) | 7.80(8) | 31.95(6) |
| Brianna B. | 4 | 11 years old | 7.30(10) | 7.70(5) | 7.85(11) | 8.30(9) | 31.15(8T) |
| Kailyn N. | Xcel Gold | 11 under | 8.80(1) | 8.50(4) | 7.7(13) | 8.5(14) | 33.50(7T) |
| Addison H. | Xcel Gold | 11 under | 8.10(12T) | 8.55(3) | 7.90(12) | 7.60(16) | 32.15(12) |
| Katlyn T. | 5 | All ages | 8.60(2) | 6.35(10) | 8.30(4) | 8.20(6T) | 31.45(7) |
Carnaval Classic Meet Results 2/16/2019 Brookfield, WI
| | | | | | | | |
| --- | --- | --- | --- | --- | --- | --- | --- |
| Name | Level | Division | Vault | Bars | Beam | Floor | AA/Rank |
| Kelly X. | 1 | 8 under | 9.300 (2) | 9.250(1) | 9.150 (2) | 9.350 (1T) | 37.050 (1) |
| Hailey P. | 1 | 8 under | 9.100 (3) | 9.000 (2) | 9.550 (1) | 9.350(1T) | 37.000 (2) |
| Evelyn F. | 1 | 8 under | 9.400 (1) | 8.900 (3) | 9.000 (3) | 9.000 (3) | 36.300 (3) |
| Briar W. | 1 | 9 | 9.250 (1) | 9.000 (3) | 9.200 (1) | 9.250 (1) | 36.700 (1) |
| Izabella B. | 1 | 9 | 9.100 (2) | 9.350(2) | 8.800 (2) | 9.050 (2) | 36.300( 2) |
| Delaney K. | 1 | 9 | 9.050 (3) | 9.400 (1) | 8.650 (3) | 9.000 (3) | 36.100 (3) |
| Kaili Z. | 2 | 8-9 | 9.300 (1) | 8.600 (3) | 9.300 (3) | 9.050 (3) | 36.250 (3) |
| Autumn S. | 2 | 8-9 | 8.850 (4) | 9.050 (2) | 8.700 (5) | 8.700 (5) | 35.300 (5) |
| Wendy F. | 2 | 10 up | 9.100 (2) | 9.400 (1) | 9.050 (3) | 9.200 (1) | 36.750 (1) |
| Ana S. | 2 | 10 up | 8.800 (4) | 9.100 (2) | 9.100 (2) | 8.800 (3T) | 35.800 (3) |
| Natalie T. | 3 | 8 | 9.450 (2) | 8.900 (1) | 8.700 (3) | 8.900 (1) | 35.950 (1) |
| Addisen H. | 3 | 9 | 9.300 (3) | 8.850 (2) | 8.250 (2) | 9.250 (1) | 35.650 (2) |
| Tegan K | 3 | 9 | 9.150(4) | 6.850 (7) | 8.000 (5T) | 8.750 (4) | 32.750 (5) |
| Emily T. | 3 | 10-11 | 8.900 (5T) | 9.150 (1) | 7.400(6) | 8.150 (3) | 33.600 (2) |
| Alanna W. | 3 | 10-11 | 9.000 (4) | 8.800 (3) | 7.600 (3T) | 8.000 (4) | 33.400 (3) |
| Lauren K. | 3 | 10-11 | 9.200 (2T) | 8.500 (4) | 6.800 (7) | 8.650 (2) | 33.150 (4) |
| Brianna B. | 4 | 11-12 | 8.600 (3) | 7.500 (1) | 7.250 (4) | 8.400 (2) | 31.750 (1T) |
| Katlyn T. | 5 | 11-12 | 9.400 (1) | 7.200 (1T) | 8.500 (1) | 8.600 (2T) | 33.700 (1) |
Lake Geneva Meet Results 1/13/2019 Lake Geneva, WI
Name
Level
Division
Vault
Bars
Beam
Floor
AA/Rank
Hailey P.
1
All ages
9.55(1)
9.45(1)
9.5(1)
9.0(3)
37.5(1)
Kelly X.
1
All ages
9.5(2)
9.1(2)
9.15(2)
9.35(1)
37.1(2)
Briar W.
1
All ages
9.1(4)
8.9(4)
9.0(3)
9.2(2)
36.2(3)
Delaney K,
1
All ages
9.0(5)
9.0(3)
8.7(4)
8.5(5)
35.2(4)
Evelyn F.
1
All ages
9.3(3)
8.3(5)
7.85(5)
8.8(4)
34.25(5)
Kaili Z.
2
Junior
9.0(6T)
7.8(9)
8.5(8)
9.1(3)
34.4(7)
Autumn S.
2
Junior
8.7(9)
7.9(8)
8.45(4T)
9.0(5)
34.35(8)
Wendy F.
2
Senior
9.2(1T)
9.25(1)
8.65(9)
9.35 (1)
36.45 (1)
Addisen H.
3
Children
9.05(11T)
8.35(3T)
8.45(1)
8.75(1)
34.6(1)
Sophia P.
3
Children
9.3(2T)
8.8(1)
7.95(5)
7.75(7)
33.8(4)
Tegan K.
3
Children
9.4(1)
7.85(6)
7.35(7)
8.2(5)
32.8(6)
Esther F.
3
Children
9.25(4)
7.5(7)
7.75(6)
7.5(8)
32.0(7)
Alanna W.
3
Junior
9.4(1T)
8.25(7T)
8.35(6)
7.95(10)
33.95(7)
Emily T.
3
Junior
9.0(12T)
8.2(9)
7.6(13)
7.15(12T)
31.95(11T)
Lauren K.
3
Senior
9.1(9)
8.0(8)
8.05(11T)
7.45(11)
32.6(9T)
Laurel F.
4
Junior
8.6(2T)
7.35(6)
7.45(10)
8.0(7T)
31.4(5)
Brianna B.
4
Junior
8.5(4)
7.75(3)
6.9(11)
8.0(7T)
31.15(6T)
Isabella P.
XP
All ages
9.1(1)
7.7(3)
6.05(4)
8.65(2)
31.5(2)
Jr. Eagle Meet Results 12/15/2018 La Crosse, WI
Name
Level
Division
Vault
Bars
Beam
Floor
AA/Rank
Kelly X.
1
8 & under
9.4(2)
9.4(1T)
9.2(2)
9.4(1T)
37.4(1)
Hailey P.
1
8 & under
8.85(3)
9.4(1T)
9.3(1)
9.4(1T)
36.95(2)
Evelyn F.
1
8 & under
9.5(1)
8.55(4)
8.75(3)
9.05(4T)
35.85(3)
Briar W.
1
9 & up
9.3(1T)
9.05(1)
8.85(2T)
9.2(1)(1)
36.41(1)
Izabella B.
1
9 & up
9.3(1T)
8.45(5)
8.45(1)
9(3)
35.6(3)
Delaney K.
1
9 & up
8.9(3)
8.5(4)
8.55(5)
8.2(5)
34.15(5)
Kaili Z.
2
8 & under
9.2(3)
8.1(4)
8.9(3)
9.4(1)
35.6(1)
Autumn S.
2
8 & under
9.4(1)
8.1(4)
9.2(1)
9.05(3)
35.35(2T)
Wendy F.
2
10 & up
9.25(1)
9.3(1)
9.4(1T)
8.85(3T)
36.75(1)
Ana S.
2
10 & up
9.1(3T)
9.15(2)
8.85(3T)
9.1(5)
36.2(2)
Addisen H.
3
9 & 10
9.45(3)
8.2(2T)
8.4(4)
9.0(3)
35.05(2)
Esther F
3
9 & 10
9.25(7)
8.2(2T)
8.15(6)
9.05(2)
34.65(4)
Sophia P.
3
9 & 10
9.35(5)A
7.55(7)
8.5(3)
8.3(7)
33.7(5)
Tegan K.
3
9 & 10
9.6(2)
7.2(9)
7.85(8)
8.5(6)
33.15(6)
Emily T.
3
9 & 10
9.1(8T)
8.2(2T)
8.05(7)
7.5(9)
32.85(7)
Alanna W.
3
9 & 10
9.4(4)
7.9(6)
7.75(9)
7.4(10)
32.45(8)
Lauren K.
3
11 & up
9.55(2)
6.75(6)
8.25(5)
8.9(1)
33.45(5)
Addison H.
XS
All ages
9.1(2)
9.1(2)
8.55(4)
8.8(2T)
35.55(2)
Brianna B.
XS
All ages
9.2(1)
7.7(4)
9.1(2)
9.05(1)
35.05(3)
Paige E.
4
11 & under
8.85(3)
7.1(3)
8.0(4)
8.2(3T)
32.15(4)
Laurel F
4
12 & up
9.0(3)
5.9(4)
7.85(2T)
8.5(2)
31.25(3)
Katlyn T.
5
All Ages
9.5(1)
6.45(1)
8.05(1)
8.85(1)
32.85(1)
Isabella P.
XP
12 & under
9.0(3)
7.0(4)
7.7(2)
9.0(3)
32.7(2)
Bear Boo Meet Results 10/28/2018 Bara Boo, WI
Team Level 1 1st Place total Score 110
Team Level 3 2nd place total score 103.25
Name
Level
Division
Vault
Bars
Beam
Floor
AA/Rank
Hailey P.
1
8 & under
9.4(2)
9.0(1)
8.8(1)
9.2(2)
36.4(1)
Kelly X.
1
8 & under
9.25(2)
8.65(2)
8.1(2)
9.3(1)
35.3(2)
Evelyn F.
1
8 & under
9.5(1)
7.2(3)
7.8(3)
8.8(3)
33.3(3)
Briar W.
1
9 & up
9.45(1)
8.6(1)
8.5(1)
8.7(2)(1)
35.25(1)
Delaney K.
1
9 & up
9.4(2)
8.45(2)
8.0(3)
8.0(3)
33.85(2)
Lauren K.
3
10 & up
9.45(1)
7.3(4)
6.76(4)
8.4(2T)
32.75(3)
Alanna W.
3
10 & up
9.0(3)
7.6(3)
8.15(3)
7.5(4)
32.25(4)
Addisen H.
3
8 & 9
9.6(1)
7.85(7)
8.1(6)
8.7(1T)
34.25(4)
Natalie T.
3
8 & 9
9.5(2)A
8.1(4)
8.2(4T)
8.3(5T)
34.1(5)
Sophia P.
3
8 & 9
9.45(3)A
8.0(5T)
8.2(4T)
7.0(9)
32.65(6)
Tegan K.
3
8 & 9
9.4(4)
6.2(9)
6.7(7T)
8.7(1T)
31.0(7)
Emily T.
3
8 & 9
9.1(7T)
8.25(2)
5.6(9)
8.0(7)
30.95(8)
Paige E.
4
All Ages
8.35(1)
7.9(1)
8.5(2)
7.2(1)
31.95(1)
Katlyn T.
5
All Ages
9.05(1)
7.0(1)
8.15(1)
8.0(1)
32.2(1)
Isabella P.
XP
12 & under
9.1(1T)
7.35(3)
9.0(4)
7.9(6)
33.35(5)
Fall Challenge AAU Meet Results 9/29/2018 Middleton, WI
Team Level 1
Team Level 2
Team Level 3
Name
Level
Division
Vault
Bars
Beam
Floor
AA/Rank
Hailey P.
1
All Ages
9.0(2T)
8.7(3)
8.25(3)
9.3(2)
35.25(1)
Briar W.
1
All Ages
8.7(5)
8.8(1T)
8.3(2)
9.4(1)
35.2(2)
Kelly X.
1
All Ages
9.0(2T)
8.8(1T)
7.4(5)
9.0(3)
34.2(3)
Izabella B.
1
All Ages
8.75(4)
8.5(4)
8.45(1)
8.4(5)
34.1(4)
Evelyn F.
1
All Ages
9.2(1)
6.7(5)
7.7(4)
8.7(4)
32.3(5)
Autumn S.
2
Junior
9.05(2T)
6.3(6)
7.95(1)
8.0(6)
31.3(6)
Wendy F.
2
Senior
9.35(1)
9.3(1)
8.0(3)
9.0(1T)
35.65(1T)
Ana S.
2
Senior
9.0(3)
8.8(3)
7.5(5)
8.7(5)
34.0(5)
Addisen H.
3
All Ages
9.5(2)A
8.2(1)
6.85(1)
8.6(1)
33.15(1)
Lauren K.
3
All Ages
9.45(3)
8.0(2)
6.5(2)
8.2(2)
32.15(2)
Tegan K.
3
All Ages
9.65(1)
7.2(3)
6.0(3)
8.0(3)
30.85(3)
Bradley M.
4
All Ages
8.45(1)
6.1(1)
6.1(1)
7.8(1)
28.45(1)
Katlyn T.
5
All Ages
9.1(1)
6.0(1)
6.25(1)
8.25(1)
29.6(1)